Find fer­ti­lity center
The right fer­ti­lity center in Poland
Poland, with its 38 mil­lion in­ha­bi­tants, has been a member of the Eu­ro­pean Union since 2004. But its as­sisted re­pro­duc­tion journey began many years be­fore this. As early as 1987, the first child was born in Poland with the help of IVF [1].
More In­for­ma­tion
Chris­toph Müller-Gun­trum
Poland
Fer­ti­lity tre­at­ment in Poland
Facts and fi­gures about fer­ti­lity cen­ters in Poland
Fer­ti­lity tre­at­ments in Poland are often si­gni­fi­cantly che­aper than in neigh­boring Eu­ro­pean count­ries. Whilst, many cen­ters offer a qua­lity stan­dard that is on par with the rest of the EU, this is seen in the si­mi­la­rity bet­wene average pregnancy rates [2].
This is partly due to the fact that child­less cou­ples in Poland re­ceive ex­ten­sive sup­port from the state. In July 2013, the Po­lish Mi­nistry of He­alth in­itiated a pro­gram whereby up to 100% of the cost of a ma­ximum of 4 IVF cy­cles in child­less Po­lish cou­ples is co­vered [3]. This has fur­ther con­tri­buted to the de­ve­lo­p­ment of re­pro­duc­tive me­di­cine in the country.
Pre­do­mi­nantly small fer­ti­lity cen­ters with re­asonable prices
To fate, Poland has more than 40 fer­ti­lity cen­ters, with this number con­ti­nuously in­cre­asing [1]. The cen­ters per­form ap­pro­xi­m­ately 20,000 cy­cles per year [4], which clas­si­fies most cen­tres as re­la­tively small. Over a third (35%) of cen­ters per­form less than 100 cy­cles an­nu­ally, and an­o­ther third (35%) per­form bet­ween 200 — 500 cy­cles. Large cen­ters with over 1,000 cy­cles per year make up only 3% of the clinic land­scape. Po­lish phy­si­cians rely al­most ex­clu­si­vely on the ICSI me­thod, as is evi­denced by the fact that for every 25 ICSI tre­at­ments, there is only one IVF tre­at­ment per­formed [5].
The right fer­ti­lity center
Fin­ding the right fer­ti­lity center in Poland
As pre­viously noted, Po­lish fer­ti­lity cen­ters offer a long history in re­pro­duc­tive me­di­cine, cou­pled with often af­fordable prices. Ho­wever, there are some hurdles when choo­sing a clinic. Im­portant to note is that there is no ob­li­ga­tion to pu­blish suc­cess rates in Poland — alt­hough some fer­ti­lity cen­ters pro­vide them vol­un­t­a­rily. As well as this, many of the cli­nics are pri­vate, which is why there can be si­gni­fi­cant dif­fe­rences in terms of ser­vices, equip­ment (e.g. whe­ther they have their own la­bo­ra­tory) and prices bet­ween cli­nics.
Sources:
1. Kraw­czak, A., Pa­tient mo­ni­to­ring in Po­lish as­sisted re­pro­duc­tive tech­no­logy cen­tres (2016). Re­pro­duc­tive Bio­me­di­cine & So­ciety On­line, Vo­lume 3, De­cember 2016, Pages 77–89. https://www.sciencedirect.com/science/article/pii/S2405661817300151
2. Com­pa­ra­tive Ana­lysis of Me­di­cally As­sisted Re­pro­duc­tion in the EU: Re­gu­la­tion and Tech­no­lo­gies. ESHRE (2008). https://ec.europa.eu/health/sites/health/files/blood_tissues_organs/docs/study_eshre_en.pdf
3. Eu­ro­pean Po­licy Audit on Fer­ti­lity. ESHRE (2018). https://www.eshre.eu/-/media/sitecore-files/Publications/Strasbourg-2018/01_RAUTAKALLIO_new.pdf?la=en&hash=1770B7CF593AE4B0EE69076C244407F6C0062596
4. Eu­ro­pean IVF Mo­ni­to­ring: Poland (2012) http://www.ptmrie.org.pl/pliki/artykuly/eim-europejski-monitoring-wynikow-leczenia/europejski-monitoring-wynikow-leczenia-eim-polska-2012.pdf
5. Human Re­pro­duc­tion. Sup­ple­men­tary Data (2016)
ABOUT FERTILLY
At Fertilly, we have made it our mission to accompany couples (homosexual and heterosexual) and singles on the way to fulfilling their desire to have a child. It is important to us to create transparency in the area of family planning and to inform you about success rates and prices.
1
Appointment booking
Very easy through our website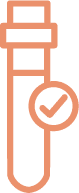 2
First consultation
Free of charge with our
fertility advisors
3
Clinic selection
We will find the right clinic for you
4
Your medical history
digitised in the patient portal
5
Find an appointment
Easy with our exclusive appointments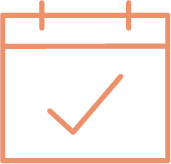 6
We are here for you!
On your fertility journey